Just a quick post, but 2022 has been a great year on many fronts!  As we move faster to the end of the year, I always like to reflect back on what was achieved.  Getting to spend this week with one our Account Executives in the DC area engaging with our Customers and discussing their goals, 2023 roadmap and other strategies has been an amazing way to wrap the year, both refreshing to hear their excitement for engaging with eGroup and excited to see what we can continue to devleop with our team.
Shifting roles a bit in late 2021/2022, handing leadership duties for our eGroup Data Center Team over to Dave Strum, I'm now able to focus on working directly with our customers in a more sales focused rule.  I'm excited to go into 2023 I'm excited to grow and evolve our team even more.
At eGroup we continue to grow in 2022, bringing on Enabling Technologies (9x Microsoft Partner of the Year Award winner) to provide even more to our Microsoft capabilities and help continue to make eGroup that trusted partner both in the Data Center, Hybrid Cloud and Modern Workplace!
We've also continued to build our relationship with Cohesity, and I'm proud to be part of the team that brought eGroup the Cohesity 2022 Carolinas Select Partner of the Year award.  I've been able to see first hand amazing digital transformation with our customers with Cohesity in both Data Protection and SmartFiles deployments, bringing simplicity and scalability to their organization.  
2022 was also a year of Cisco, as we saw both a frustrating Supply Chain impacting solution deployments, but also a challening - yet very rewarding year as we saw a great number of Legacy ASA to Firepower migration opportunities coming on board.  Meraki and Nexus continue to be extremely strong and very value solutions for our customers - and I'm excited to see the early shift of 10GbE to 25GbE solutions - SPEED!
Finally, announced today (12/13) was the Nutanix Technology Champions announcement, which I'm incredibly proud to be a member of now for 7+ years.  You can read the announcement below.  It's a group of IT professionals I'm humbled to be part of, and of course gives me the opportunity to continue to build, evangelize and grow our eGroup-Nutanix relationship for our customers!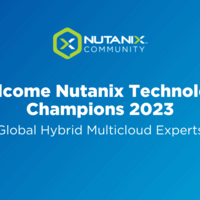 As we head into 2023, I'm super excited to see our team continue to grow.  2 Solution Areas I'm tracking very closely are NC2 with Nutanix, allowing us to really bring the value of Nutanix On-Premise and Microsoft Azure together and Azure VMware Solution with VMware.  Both of these solutions allow for a strong strategy of Hybrid Cloud, Simplicity and Resiliency.   I was able to give a webinar on AVS very recently, with one for NC2 coming in early 2023.  
I wish you all a wonderful holiday season filled with time with family.  I wish you all time to relax from this year (and the past few years we've had), and look back on successes and failures - something to learn from!
Take time to do something special for you.